Meet Our
Staff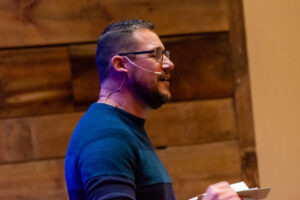 Senior Pastor P.J. is a graduate of Teays Valley High School. He has a Bachelors Degree from Ohio Christian University with a minor in Christian ministry and a major in Pastoral ministry.
Before coming to Lighthouse Church, Senior Pastor P.J. and his wife Jill worked for three years in the Youth Pastorate at Cannan Land Church in Grove City, Ohio.
While doing God's work, God began to bring about a change in Senior Pastor P.J.'s life that challenged him to step into a ministry that is focused on God's mission. Out of the maintenance and transactional ministry into a mission and transformation ministry, he found that with God's guidance and directon, Lighthouse Church and our burdens and visions for God's work became one. He, his wife Jill. their son Elijah and daughters Olivia and Anelyn are a treasure to Lighthouse Church.